Fall Getaway 2022
Post Thanksgiving Weekend – Mountain Center, CA ~ A CMG getaway? But wait…is it a Gathering or not? Well, sort of. It's like a Gathering…lite! More about letting go and having fun together than focusing on ritual. It's been a heck of a year (with a big election coming to boot!) and we just want to blow off steam together. And since we don't have a big committee, rather than not coming together at all, we're just simplifying…believing we can plan less and have it be just as much fun! So no theme that we'll explore. Only one assembly at the beginning, where the focus will be almost entirely on playing and meeting each other. And at the end, sure…a light closing. But in between, way more loosey-goosey!

REGISTRATION NOW OPEN
California Men's Gatherings Presents: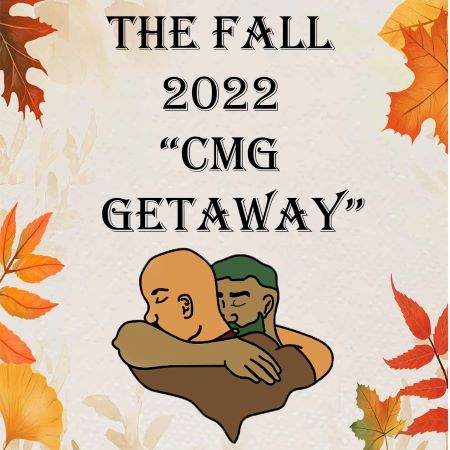 Post-Thanksgiving Weekend
Friday, Nov 25th – Monday, Nov 28th, 2022


Pathfinder Ranch, Mountain Center, CA ~ outside Idyllwild
All-inclusive Registration Costs:
Early-bird rate ($310)

 

will apply through

Oct 24th

 

to encourage you to commit nice and early! 

Standard rate ($325)

 

will be available 

throughout Nov 15

 

for those who cannot commit during early bird.

Late registration rate

 

($345)

 

will apply for those who wait until those 

final few days

,

 

November 16th or later

 

to register.  
Accommodations and meals
The base registration fee includes a bed in a shared, heated bunkroom, with shared bathroom/shower. You must provide your own bedding. A limited number of semi-private rooms may be available but they go fast. 
Eight meals in all are served from Friday Dinner to Monday Lunch, with vegetarian and vegan options available.  If you want to bring more for yourself (non-refrigerated), feel free!   In addition, snacks are available 24/7. Want to add to the snack table with your own delights?  We'd love that!  Regardless, you will not go hungry! :-)
How do I get to camp? What should I bring?
We endeavor to coordinate ridesharing for participants both for convenience and for our impact on the environment. If you need a ride or wish to provide one, please indicate that information during registration and we will contact you about a week ahead to coordinate ridesharing. If you are registering late or live in a remote rural area, it may not be possible for us to find you a ride but our track record is fabulous. 
Around two weeks before the Getaway, you will receive a "Welcome Letter" email with necessary information about the long weekend, including a program guide of all activities, directions to Pathfinder Ranch, and a recommended list of what to bring (and not bring).
So what WILL we find at the Getaway? 
Workshops are going to be more of a focus (so we hope we get plenty) and we want yours!  What could you bring to share about, do together, or make fun with?  Workshops can be anything, limited only by your imagination, safety, and a clear description!  And by popular request, at least one led massage workshop is already confirmed…probably two!
Without so many assemblies, we have time for more workshops and even to repeat some.  We also might throw in some other full group fun.  Or take that time to enjoy the woods.  Or take a long coffee with old/new friends.  Or sit by the fire without intentions.  It's your getaway!  And we all need that now and then!
What will the fun include?   
Let's start with three chances to dress up:
The "Wear Anything" Dance.  What sounds like fun to you?  Drag?  Leather?  Jockstrap?  Toga?  A giant panda?  Whatever feels fun to wear is welcome.  And for those who have been missing some clothing-optional events from days-gone-by at CMG, remember that this party is fully indoors!  So while the theme says to "Wear Anything", that could mean just a bow-tie…
 
The Pajama Mocktail Party.  Dig out those flannels.  Footies, maybe?  Or puppy slippers?  Speed Racer PJs? Or perhaps lingerie is more your pajama of choice?  Whatever says sleepwear to you, even if it's just a big T-shirt and sweats, come see what everyone chooses.
 
The Variety Show.  Whether you'd like to be in it or just attend looking fabulous, it's the program where we're all the stars and it's is way more festive if half of the spectacle is the audience (though you can certainly come in jeans and a T-shirt!  Got a talent or a fun idea?  Bring your act for the show!
    Just those three times?  Heck, no.  It's CMG.  If you want to treat every meal and workshop like your own costume ball, you just go right ahead...either on your own or with some friends.
What else will be different about the Getaway?
At the request of a number of people, including first-timers, we're lightening up on the tone of the Play Zone and saying, "Go get your groove on, Stella!"  Late night is likely to be its prime time, but if you're between workshops and want to see who else is feeling the vibe, pop into the Play Zone.
That said, our team has a lot on our plate, so if you love the idea of us having a great looking Play Zone, what could you contribute?  Erotic décor?  Lighting?  A portable glory hole?  Contact our Play Zone coordinator Garrick at GarrickWilhelm@TheCMG.org if you have ideas or items to bring; you can also add your touches at the last moment! 
I've never been to a gathering to know the difference!  What can I expect?
Definitely look around on www.TheCMG.org to get a better sense of the organization than we can share here.  But the bottom line is that you can expect a warm group of men who welcome more community in their lives, fun together, conversations ranging from silly to heart-centered, time in nature, and new friends both at camp and beyond.
What if I can't stay the whole time?
If you can't arrive until Saturday or must leave Sunday, that's okay (though do let us know if you leave early so we don't worry!).  Better to come for much of the event than none, right?  But to answer that common question, the rate is the same.


I have more questions!  How do I ask?
For registration, pricing, scholarship funds, etc....email registration@thecmg.org
For content of weekend questions, logistics, camp issues, and other general CMG questions, write to question@TheCMG.org.
When
November 25th, 2022 4:00 PM through November 28th, 2022 11:00 AM
Location
35510 Pathfinder Road




Mountain Center

,

CA

92561




United States
First, The Stuff with Fees
Registration Fee
$ 345.00
Returning Participant
$ 0.00
First Timer Discount
$ -150.00
First Timer but NOT taking the discount
$ 0.00

Donations for Financial Aid

Helping to Build the Fund
$ 50.00
One Man's Grant
$ 100.00
Send a Man to Camp
$ 325.00

Lodging Choices & Upgrades

Tent or RV
$ 0.00
Standard Dormitory Lodging
$ 0.00
Bed in Semiprivate Room
$ 150.00