Fourth of July Fireworks Potluck with Hot-Tub - San Diego
Please bookmark our quick-link to a list of all events upcoming for San Diego: http://www.thecmg.org/san-diego-events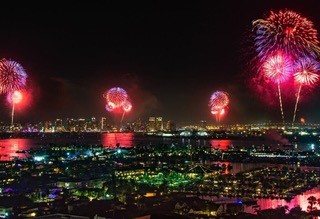 We'll gather early evening to enjoy our potluck dinner and, as darkness falls, we'll take advantage of the panoramic view of numerous fireworks displays seen from our host's hilltop home. The patio deck hot tub will be open for any who would like to enjoy that.
NOTE: Wondering what became of the bonfires? We lost our source for firewood! If you know anyone who could help with that (other than pallets, which are illegal because of the sharp nails), let us know because we'd love to bring those back!
---
WHEN: Monday July 4, 2022 7-9:30pm
LOCATION: Private home in La Mesa (address given upon RSVP)
RSVP: Click the big blue button (below) to RSVP. We welcome friendly men ages 21-99+ with full vaccination and at least one booster! Masking is optional.
PARTY LIMIT: We'll cap attendance at 50; If your RSVP is late, you may be on a waiting list to attend.
So if you find you can't come after reserving a spot, please RSVP again with your cancelation and a headcount of "0" so we can open that space for someone else if there's a waiting list.
EVENT DONATION: Your potluck item plus $5 donation. Note: No one will be turned away for a lack of funds if you cannot pay all or even any of the donation. Learn more about our financial policy and where CMG money goes by linking here.
WHAT TO BRING:
**Food:

For the potluck, bring something ready-to-serve (5-6 servings). Appetizers, main dishes, side dishes, salads, desserts, all welcome!

Something more than just chips, please, and any needed serving utensils.
**Beverages:

CMG will provide water, ice, paper goods, cups, utensils, etc.

If you'd like a beverage other than water, please bring for yourself or perhaps to share (men frequently bring wine or sodas to share with others).
**Alcohol:

At this party, beer, wine, and "coolers" (like hard lemonade, etc) are acceptable for responsible drinking. Please no hard alcohol. Because alcohol will be present,

upon arriving, everyone will be asked to sign a "hold harmless" form, protecting CMG and the host. If it's new to you, the line moves faster if you'll pre-read this short form before coming.
**For the hot tub: If you might go in, bring a towel.
While this is not a clothing-optional event overall, bathing suits are optional while using the hot tub.
PARKING: Street parking is available but limited on a hilly street. Come with a friend to save gas and parking spaces.
SMOKING

: Front of the house only.
PARTY QUESTIONS: Fred is our point of contact for this event. Please RSVP through the form listed above and you can ask questions in the comments field. For 'day-of' questions only, call Milo's cell: (619) 977-0598.
Please remember, for this and all CMG events, if you lose this email, you can always see all published upcoming San Diego events at www.TheCMG.org/san-diego-events . We get a lot of phone calls for information that's right there on the site. :-)

---

California Men's Gatherings

fosters a safe, supportive, welcoming community where men challenge themselves to develop their emotional, spiritual, social, intellectual and physical lives—with as much fun as possible along the way!
---
If connecting with men is important to you, attending a LIVE or ONLINE event is a great way to find out about the California Men's Gatherings and the many wonderful men who get involved. Since 1978, CMG has been a place where all men—gay, bi, trans, and straight—from 18-80+ can find a different way to connect. Men who come to CMG events and gatherings are predominately gay and bisexual, but all persons identifying as male, 18 years or older are welcome. Visit http://thecmg.org for more information.
---
You've received this email because you registered for an event or have asked to receive updates from us. Click unsubscribe to stop receiving ALL CMG emails.
California Men's Gatherings, Inc.

1049 Havenhurst Dr. #123




West Hollywood

,

CA

90046




United States
©2022 California Men's Gatherings, Inc. 

All rights reserved.