Pool Party Potluck - San Diego

A fully-outdoor pool party (wonderfully solar heated to high 80s) for those of us who are fully vaccinated and feel comfortable coming.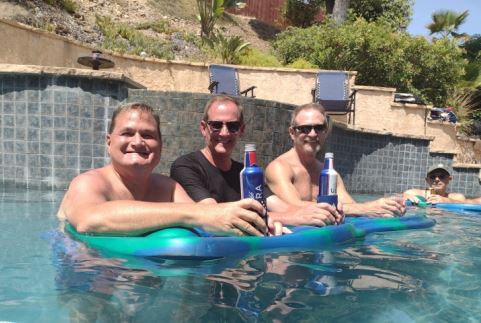 Date/Time: Saturday Sept 17, 2022 12pm - 4pm

We only need 2 or 3 men on set-up about 30 minutes beforehand, but really need to know that we have about 8 men willing to help with clean-up. Having that many for previous parties have had us done in under 10 minutes!
Location: Private home in La Mesa (current forecast for La Mesa that day: Sunny and 80ºF)
RSVP: Please RSVP to by clicking the blue button at the bottom of this page. The event has a head-count cap of 50, so RSVP to get in! Address will be in the confirmation note you get after you RSVP.
Note: As this event is permitting alcohol, the age minimum will be 21 so be prepared to show ID...even if you are in AARP!
Event Donation: $10 plus your potluck item. Note: No one will be turned away for a lack of funds if you cannot pay all or even any of the donation. Learn more about our financial policy and where CMG money goes by linking here.
---
DESCRIPTION: Good food, good men, good fun! And hopefully good weather as this lovely summer continues. All friendly, open, attitude-free men ages 21-99+ are welcome! Swimsuit required on this one.
WHAT TO BRING:
Food: Bring something to share food-wise (something more than just chips, please) and any needed serving utensils. A few desserts are nice, but when in doubt, we can never have too many entrees and salads, but there CAN be too many desserts. CMG will provide water, ice, plates, plasticware, cups and napkins. If you'd like a beverage, please bring for yourself.
Alcohol: If you would like to bring beer, wine, hard seltzer, or coolers, they are welcome at this event; please no hard liquors.
Accessories: Be sure to bring your towel, sunscreen, and a swimsuit.
HOUSE RULES:
1) Upon arriving, everyone will be asked to sign a "hold harmless" form, protecting CMG and the host. In the interest of moving the line along as people arrive, it would be great if you'd pre-read this short form in advance where we posted it online.
2) No glass anywhere near the pool. There will be a table where any glass items can be placed, but please pour contents into cups before taking them by the pool.

3) Except for access to a bathroom, this will be an all-outdoor party. If most can come with bathing suits on already, it will keep everyone from needing the bathroom for changing.

4) Anyone needing to smoke should ask our welcome table manager or the host where the designated smoke area of the yard is. Please no smoking in front of the house.
PARKING: On the street. Be prepared to walk a block or so.
PARTY QUESTIONS: Fred is our point of contact for this event. Please RSVP through the form listed above and you can ask questions in the comments field. For 'day-of' questions only, call his cell: (619) 889-3791.
Please remember, for this and all CMG events, if you lose this email, you can always see all published upcoming San Diego events at www.TheCMG.org/san-diego-events . We get a lot of phone calls for information that's right there on the site. :-)

---

California Men's Gatherings

fosters a safe, supportive, welcoming community where men challenge themselves to develop their emotional, spiritual, social, intellectual and physical lives—with as much fun as possible along the way!
---
If connecting with men is important to you, attending a LIVE or ONLINE event is a great way to find out about the California Men's Gatherings and the many wonderful men who get involved. Since 1978, CMG has been a place where all men—gay, bi, trans, and straight—from 18-80+ can find a different way to connect. Men who come to CMG events and gatherings are predominately gay and bisexual, but all persons identifying as male, 18 years or older are welcome. Visit http://thecmg.org for more information.
---
You've received this email because you registered for an event or have asked to receive updates from us. Click unsubscribe to stop receiving ALL CMG emails.
California Men's Gatherings, Inc.

1049 Havenhurst Dr. #123




West Hollywood

,

CA

90046




United States
©2022 California Men's Gatherings, Inc. 

All rights reserved.